What is a Slip and Fall Injury?
Slip and fall or trip and fall refers to an injury that a person sustains on a premise owned or operated by another individual or corporation. While potentially catastrophic, slip and fall injuries are difficult to pursue because they require proof that:
The owner of the property was negligent.
The injured individual took care to avoid any obvious danger.
Slip and fall statutes vary by state. Michigan statute stipulates that settlements must be reached within three years from the date of injury.
Common Slip and Fall Causes
There are many scenarios that may result in a slip and fall or trip and fall claim. Some, but not all are weather-related. Some of the most common slip and fall claims occur when:
Construction is improperly marked.
Standing water is left unattended.
A building is not up to code or is poorly maintained.
Snow and ice are not adequately cleared.
Why Are Slip and Fall Claims Difficult to Pursue?
Slip and fall or trip and fall claims can be difficult to litigate because of something referred to as the "open and obvious" doctrine. The Open and Obvious Doctrine assumes that an average person with ordinary intelligence would have discovered the danger on the premise upon casual inspection. A Court must consider whether a reasonable person would foresee the particular risk.
In Michigan, the Open and Obvious Doctrine is often referred to in weather-related claims, like slipping on black ice or accumulated snow. Because of our State's predisposition to inclement weather, these scenarios are not always applicable to a slip and fall or trip and fall claim.
It's important to understand that there are many layers to these injury-causing scenarios and that only a skilled slip and fall attorney can properly evaluate a potential case.
If you or a loved one have fallen victim to a "slip and fall" injury, choose Dingeman & Dancer, PLC. Notoriously difficult to litigate, slip and fall (sometimes also called "trip and fall") accidents require the experience of a local, highly knowledgeable firm.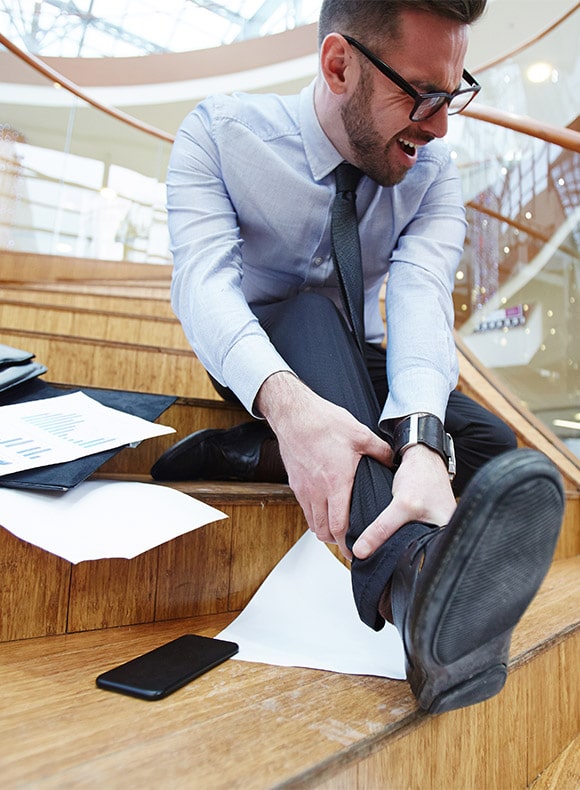 Find Slip and Fall Attorneys Near Me
If you or a loved one has suffered from a slip and fall injury, choose Dingeman & Dancer, PLC. Our Michigan slip and fall lawyers have a proven track record for success in slip and fall and trip and fall cases.

When you call us, you get us. Call 800-626-0050 or request an appointment online.