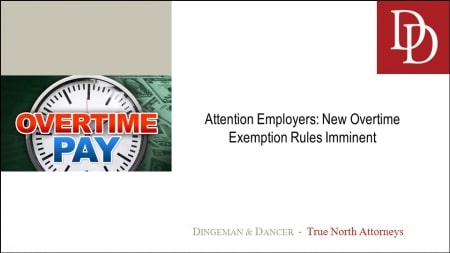 Attention Employers: New Overtime Exemption Rules Imminent
---
Earlier this week, the U.S. Department of Labor sent to the Office of Management and Budget its final draft of proposed new regulations that govern the white collar exemptions to overtime pay. The anticipated impact these regulations will have on many employers and employees is significant.
One change that will almost certainly be implemented is an increase to the minimum salary required to qualify as exempt from overtime pay, from the current annual rate of $23,660 to more than $50,000. Purportedly, this salary level will be annually adjusted according to an index-based formula or other similar factor. The new rules may also redefine the types of duties employees can perform to qualify for the exemption. This means that employers may need to react by redesigning pay structures and reclassifying employees from being exempt to non-exempt.
The Office of Management and Budget's review is the last hurdle that needs to be cleared before the new regulations are published and implemented. This review could take as long as three months, but typically lasts somewhere closer to one or two months. Either way, the release of these new rules is certainly imminent.
Although the exact details have not yet been revealed, enough is known about the new regulations that employers should start planning now. Employers who wait until the new rules become official could be forced to rush into compliance, which would deprive them of the opportunity to properly and cautiously consider all of their options for complying, the implications of complying, and how to prepare supervisors and employees for the impact of working under these new regulations.
Waiting until the new rules are finalized may not leave enough time to implement new structures and procedures during the short period before the new regulations are published and implemented. Employers who would like to learn more about how they can begin planning for what lies ahead should contact the experienced labor and employment attorneys at Dingeman & Dancer.