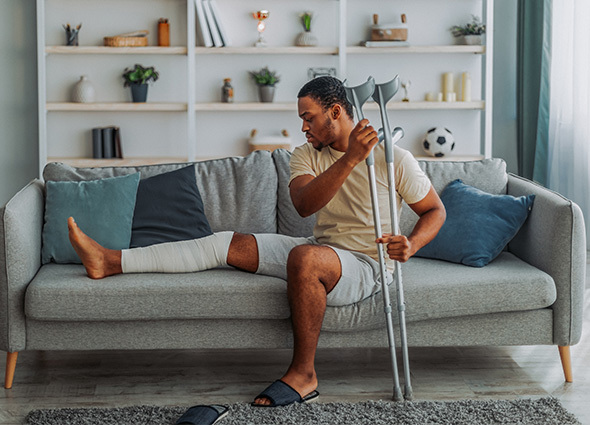 Do I Have a Personal Injury Case After an Auto Accident?
---
After immediate concerns have been addressed, it's time to think about the future—how will you recover? Will ongoing medical bills cause additional hardship? Will you be able to return to work? Will your injuries require significant treatment, or be permanent?
It can be difficult to determine whether you have a personal injury case strong enough to pursue a civil claim against a negligent person.
Knowing what makes a successful auto-accident, personal-injury claim will help you decide if your case is worth pursuing.
Personal injury claims come in many forms. An auto negligence claim is a type of personal injury action. Bodily injury damages arising from the negligent acts of a Michigan driver are governed by Michigan's No-Fault Act. Michigan's No-Fault Act separates an injured person's damages into two categories: first-party personal protection insurance (i.e., medical claims) and third-party bodily injury claims (i.e., pain and suffering claims). A first-party personal protection insurance claim can be made regardless of who caused a crash. However, there must be a responsible/negligent party to make a third-party bodily injury claim.
Liability is therefore a necessary element to bring an auto negligence case.
A third-party bodily injury claim against an at-fault driver consists of three components: threshold injury, liability, and insurance:
Threshold injury: Michigan law defines a threshold injury as (1) death; (2) a serious impairment of a body function; or (3) serious permanent disfigurement. Thus, the most crucial element of a personal injury action against an at-fault driver is the injury.
Liability: Pursuant to Michigan law, an at-fault party cannot make a third-party bodily injury claim. A person who is more than 50 percent at fault for a car crash is barred from making a third-party bodily injury claim. Thus, whether you have a third-party bodily injury claim depends on who was at fault for the crash. Having police reports and documents from the insurance company will help you and your attorney establish liability.
Insurance: In some instances, this is called "collectability." Essentially, there's no reason to pursue damages if the negligent party is uninsured or not collectible. Although Michigan drivers are required to be insured, not all drivers are insured, and many are underinsured. Thus, it is important to have uninsured and underinsured motorist coverage so that you can turn to your own insurance if injured by an uninsured or underinsured driver.
If you were injured because of someone else's negligence, it is critical that you contact an attorney who specializes in auto-negligence personal-injury claims. A skilled personal-injury attorney will help you build a case and obtain a settlement.
If you or a loved one has been injured in an auto accident, it's time to act. With 35 years of experience, our litigators know how to prove personal injury claims, effectively.
When you call us, you get us. Request a consultation online or call 800-626-0050 to connect with our team.
---