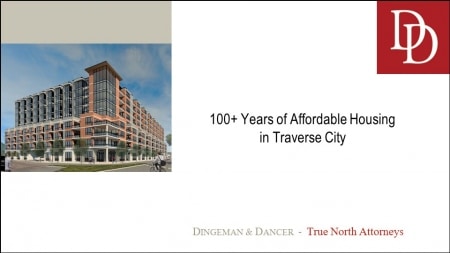 Local Interest: 100+ Years of Affordable Housing in Traverse City; Affordable Housing circa 2005
---
In recent months, tall buildings, development, and affordable housing have been at the epicenter of discussion and debate in the Traverse City community. Traverse City's economy is based, in large part, on the service industry and light manufacturing, but property values are driven by the high demand for residential real estate. This unique dichotomy has created a housing imbalance and an unmet demand for affordable housing.
Abundant natural resources and scenic beauty define the Traverse City area. Clean blue water, panoramic views, and miles of sand dunes come together with the iconic farms, orchards, and vineyards to make a truly special place that attracts waves of visitors each year. In addition, revitalized landmarks, first-rate dining and entertainment, and successful new businesses have made Downtown more attractive than ever before.
Because Downtown Traverse City is such a wonderful place to visit and live, it is not surprising that the demand for housing in the city has been on an unwaivering climb upward. While increased property value is largely a good thing, the unfortunate consequence has been a growing absence of affordable, workforce housing alternatives in Downtown.
According to The Ticker, some local leaders in the community believe that the lack of affordable housing for the majority of the local workforce is the city's most pressing issue, as well as an impediment to attracting young professionals and middle-class families.
The recent debate has stemmed from disagreement over the best solution for remedying our significant need for affordable housing. Some in the community believe that large-scale development projects like the proposed 9-story building on Pine Street are a step in the right direction. Opponents of this type of solution argue that this sort of project will jeopardize the "small town character" of Traverse City.
Here is a look at how affordable housing has developed over the past 100+ years: