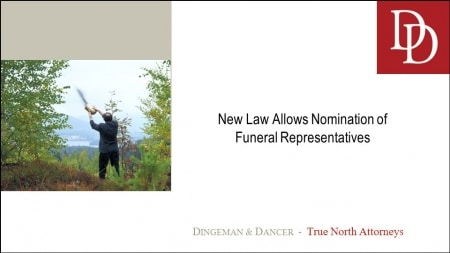 New Law Allows Nomination of Funeral Representatives
---
Author: W. Dane Carey
Effective on June 27, 2016, Public Act 57 of 2016 amends Michigan law to enable an individual to designate a funeral representative to handle disposition of his or her bodily remains after death and make post-death decisions regarding funeral arrangements.
Under prior law, when an individual died in Michigan, decisions regarding funeral arrangements and final disposition of his or her remains were made, in order of priority, by a decedent's surviving spouse and the decedent's next of kin. These individuals were presumed to have authority and power to make such decisions. Although this statutory presumption could be challenged in court, the law did not require a court to consider the wishes of the decedent. As a result, the previous statute effectively prevented individuals from planning ahead to avoid potential disagreements among family members and ensure that their own wishes would be carried out.
Under the new law, an adult of sound mind may nominate another adult of sound mind as his or her agent—referred to as a "funeral representative"—granting that person the right and power to make post-death decisions about funeral arrangements and disposition of decedent's body. A successor funeral representative may also be nominated to act in case the initial funeral representative is unable or unwilling to serve. Such designations must be made in a writing that is signed and dated in the presence of two witnesses or before a notary public and may be included in an individual's will or medical power of attorney document.
In addition to the ability to make funeral representative designations, the new law also allows individuals to specify circumstances under which a funeral representative designation would be revoked, including the representative's resignation, failure to locate the funeral representative after reasonable efforts, or the funeral representative's refusal to exercise his or her rights or powers under the bill or failure to act within 48 hours after receiving notice of the decedent's death.
If a person does not nominate a funeral representative prior to his or death, the default law presumes that the following adults have the authority to make these types of decisions, in order:
As was true under prior law, this statutory presumption is subject to challenge in court.
Because the Act amends the definition of "fiduciary" to include "funeral representative" and because the legislative history suggests that the legislature intended that the funeral representative would owe a fiduciary duty to the decedent, a funeral representative most likely has a duty to carry out the wishes of the decedent, including any instructions contained in the designating instrument. Because the statute is not clear on this point, however, it remains to be seen how the new law will be interpreted and applied by Michigan courts. Regardless, at the very least, individuals may now appoint the person who they believe is most likely to carry out their wishes.
Any person who would like to ensure that his or her specific post-death instructions be followed should consider nominating a funeral representative in the manner prescribed under the new law.
If you would like to learn more about the new process for appointing a funeral representative, or if you would like to discuss the status of your estate plan, please contact the experienced estate planning attorneys at Dingeman & Dancer, PLC.