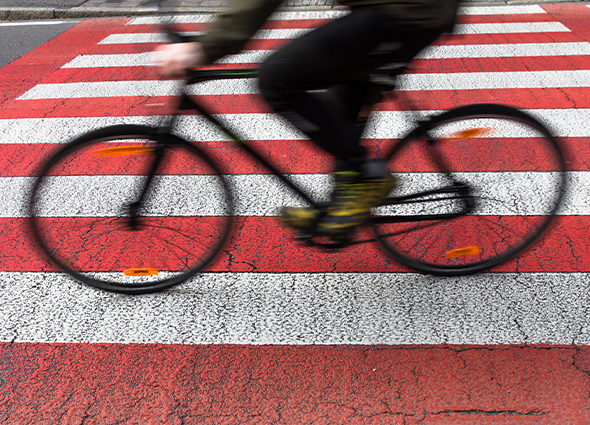 What to do after a bike accident – car vs. bicycle accidents
---
As in any accident, if you are able to do so, contact the police as soon as possible. If you're injured, try to have someone contact the police on your behalf. Once the police have been contacted and draft a report, you will be able to move forward with an attorney.
Bikes and cars share the road—and it's up to us to do so safely!
There are several considerations after a car vs bike accident: what to do, when to seek medical attention, and when to seek legal representation are common inquiries. To make sure that you understand your responsibilities, and what steps to take, we've put together this guide to walk you through this tough time.
Crash liability is not always clearcut, many factors come into play. For example, whether the cyclist was using a crosswalk; what lane the cyclist was in at the time of impact; and whether the driver had a red light, yellow light, or stop sign are key factors when considering liability. Therefore, representation by an experienced attorney is crucial. An experienced attorney will advocate on behalf of the injured cyclist when fault is questionable.
After an accident, you, or someone who witnessed the accident, should call 911 immediately to report the accident. Even after a minor accident, all parties involved should be checked for injury.
Once first responders arrive on the scene (police and EMTs), they will begin to treat the injured and gather information about the accident that will be vital to any future legal action.
Steps to Take:

Take pictures;
Talk to witnesses;

Get the investigating officer's information;

Request a copy of the police report;
If you were seriously injured, seek medical treatment, and

Contact an attorney to ascertain your options.
Hit-and-run accidents involving bikes and cars are sadly all too common. In fact, a survey performed by AAA indicates that hit-and-runs happen as frequently as every 43 seconds in America. From 2006 to 2016, the period covered by the survey, on average 8% of all hit and run fatalities were bicyclists. This represents that it is not necessarily uncommon for drivers to flee accident scenes to avoid prosecution or payouts.
It is imperative that you seek legal advice if you were injured in a hit-and-run crash. Specifically, you may be entitled to Michigan No-Fault Benefits for medical treatment and lost wages. If you are insured for Uninsured Motorist Coverage, you may also have legal recourse under your own insurance contract for the injuries you sustained.
If you or a loved one has been injured in a bicycle vs. motor vehicle accident, trust Dingeman & Dancer, PLC to help you recover. With 35 years of experience, our litigators have the knowledge and experience necessary to prove personal injury claims.
When you call us, you get us. Request a consultation or call 800-626-0050 to connect with a member of our team.
---