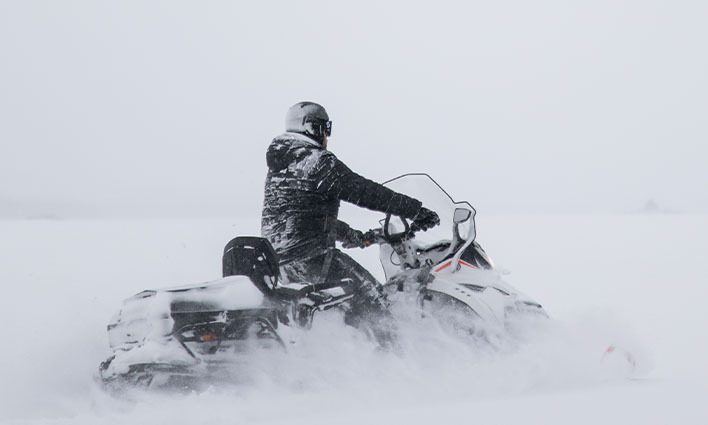 What to Do After a Snowmobile Accident in Michigan
---
Michiganders take advantage of snowfall in a variety of ways, including snowmobiling. Snowmobiling is an inherently dangerous activity, and despite proper safety precautions, accidents still happen. Snowmobile accidents happen for a variety of reasons: low visibility, icy conditions, lack of experience, poorly marked trails and operator impairment are some of the most common causes.
Regardless of the cause of the accident, riders who have been in an accident are often left with serious injuries and questions about how they might pay for their recovery. Contacting a qualified attorney to help answer these questions and help secure a settlement is a logical next step.
If you or a loved one have been injured in a snowmobile accident, don't wait. Our personal injury attorneys can help you to build a case and secure a settlement for your injuries. Call 800-626-0050 to speak with a member of our team.
What to Do First After a Snowmobile Accident
Before any other actions are taken – excluding rendering first aid and contacting emergency medical services – it is essential that the proper authorities are contacted so a full investigation and report can be made. This will typically be completed by the local police or the DNR, depending on where the accident occurred. A report outlining the details of the accident will be a key piece of evidence, which will help support your case.
Different Types of Snowmobile Accidents and Recovery Options
Depending on the circumstances of your case, you may have several ways of being compensated for injuries sustained in a snowmobiled accident. Although it is not required in Michigan, some operators carry snowmobile insurance that can be used to pay for damages and injuries. If your accident involved an automobile, no fault insurance might also be an option for recovery. In any personal injury case, the first step after an accident will be determining coverage. Because there are so many different types of snowmobile accidents, coverage can come in a variety of forms.
Single Operator Accidents
Although it might seem like in a single operator accident that liability automatically falls to the lone operator, this is not always the case. In fact, liability can sometime fall to other parties who were not even physically present. For example, poor trail maintenance, poorly groomed trails, or trails that are not properly marked can be the cause accidents. In these situations, liability can fall to the state of Michigan.
Another cause of accidents involving a single rider are manufacturer defect. If the snowmobile is defective than liability could be placed on the manufacturer if it can be proven that the defect was the cause of the accident, rather than negligence of the operator.
Multi Operator Snowmobile Accidents
Collisions between snowmobiles are common and liability decisions in these situations are often more straightforward than in single operator accidents. Factors like speed, alcohol consumption, proper use of groomed trails or going off-trail can all factor into a liability determination. For example, if one operator was speeding after having consumed alcohol, the odds of them being deemed liable for the accident increases compared to an operator following all Michigan laws and local ordinances.
Snowmobile Accidents Involving Cars and Trucks
In Michigan, it is not uncommon to see snowmobilers riding along the side of roadways or crossing roadways to access trails. This can lead to automobile crashes and trigger Michigan's Auto Laws. Snowmobile versus car or truck accidents can become very complicated and there are several factors to consider. One consideration is where the accident occurred. If the snowmobile was on the road and refused to yield, then the liability will probably fall on the snowmobiler. However, if a car or truck is off-roading on a groomed trail and damages a snowmobile or injures its operator, the liability will likely fall on the driver of the car or truck. Local ordinances can also be a factor. Local ordinances often dictate how fast a snowmobile operator can travel on a roadway and where a snowmobile operator is permitted to ride.
What Makes a Good Case
Determining whether to pursue legal action is a difficult decision. If you've been in an accident, it's easy to get overwhelmed by all the laws and regulations related to snowmobiles. The most important factors to consider are liability, insurance and severity of the injuries incurred.
Even if you were in an accident, you might not automatically have a case. If you are not able to prove that liability rests with another party or if your injuries are too minor, it's unlikely that your case will prevail in court.
Michigan and No-Fault Snowmobile Insurance
In Michigan, car accidents often involve a discussion of No-Fault insurance. However, the wording of Michigan's No-Fault insurance law specifically states that snowmobiles are not considered motor vehicles. This means that snowmobile accidents are generally not covered under no-fault insurance. However, if the accident involves a car or truck, then no-fault insurance coverage may be available to the snowmobile operator.
Find a Michigan Snowmobile Accident Attorney Near Me
Whether you're trying to recover from a snowmobile accident caused by another, or even one caused by yourself, it's always better to have an attorney you can trust helping you through the process.
At Dingeman & Dancer, our team has the experience and skills needed to make sure you're taken care of at a moment when you might feel vulnerable. Request a consultation online for help deciding what to do next, or call us at 800-626-0050. When you call us, you get us.
---