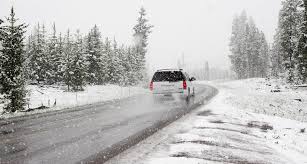 Winter Weather Driving Tips
---
Earlier last year, the Farmers' Almanac dubbed this winter the "Polar Coaster" predicting that people would be blind-sided by the ups and downs of unpredictable weather changes. Surely, this winter has lived up to its name as it has taken us on a roller coaster of weather changes. Northern Michigan's Snowpocalypse arrived earlier than usual blessing us with several feet of snow in early October. It then dissipated briefly in November and December and is now back in full force. Despite winter's early arrival, it does not seem to be going anywhere any time soon. January is historically one of the coldest and snowiest months. So, it is important to remember key driving tips to keep yourself and others safe on our snowy roadways.
Winter driving in Michigan can be extremely dangerous. Since 2016, there have been over 20,000 crashes annually involving snowy weather conditions in Michigan. Here are some winter driving tips you should follow before heading out onto Michigan's winter roads:
It is most important to slow down when winter weather strikes. A posted speed limit indicates the maximum speed drivers are permitted to travel on a specific roadway. A driver is still responsible for taking weather and roadway conditions into consideration when operating a vehicle.[1] Despite a roadways' posted speed limit, a driver is obligated to operate his/her vehicle at a prudent speed not greater than nor less than is reasonable and proper to enable him/her to stop in an assured clear distance ahead. This means a driver who is driving under the speed limit can still be responsible for causing an accident. And, Northern Michigan weather is never a valid excuse for causing an accident while traveling too fast on snow- and ice-covered roadways.
If you were injured in a car accident and would like more information regarding your rights to recovery, please contact the experienced personal injury attorneys at Dingeman & Dancer, PLC, (231) 929-0500, 100 Park St., Traverse City, MI 49684.
[1] MCL 257.627.