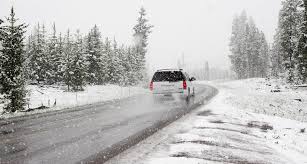 Winter Driving Safety Tips | Dingeman & Dancer, PLC
---
How to Prepare for Winter Driving
Winter in northern Michigan is always exciting. From whiteouts to ice, we're well versed in what the season may bring. So, it's important to remember key driving tips to keep yourself and others safe on our snowy roadways.
Read on to learn about the legal issues surrounding winter driving and about the importance of winter driving precautions you need to take.
Winter Driving in Michigan Can Be Treacherous
Winter driving in Michigan can be extremely dangerous. Since 2016, there have been over 20,000 crashes annually involving snowy weather conditions in Michigan. And, according to the US Department of Transportation, 21 percent of all motor vehicle accidents are weather-related.
Taking ample precaution before you hit the road and extra care while you're en route can reduce your chance of having a winter-weather accident.
4 Winter Driving Safety Tips
Here are four winter driving tips you should follow before heading out onto Michigan's winter roads:
Maintain your vehicle
Your vehicle was designed with safety in mind. Safety systems like anti-lock brakes and windshield wipers work best when properly maintained. Make sure your vehicle is serviced regularly and that you're taking care to check things like tire pressure before embarking in any weather.
Slow down
It's most important to slow down when winter weather strikes. A posted speed limit indicates the maximum speed drivers are permitted to travel on a specific roadway. Speed limits are not determined based on adverse weather patterns, but for average driving conditions.
A driver is legally responsible for taking weather and roadway conditions into consideration when operating a vehicle. According to the Michigan Vehicle Code Act 300 of 1949, 257.627 Speed limits,  "Despite a roadways' posted speed limit, a driver is obligated to operate his/her vehicle at a prudent speed not greater than nor less than is reasonable and proper to enable him/her to stop in an assured clear distance ahead." This means a driver who is driving under the speed limit can still be responsible for causing an accident.
Follow all traffic laws
Following traffic laws is important year-round regardless of weather conditions—but it's especially important in winter. As snow or slush causes a vehicle to behave differently. Things like stopping time may be increased due to conditions, which is why it's more important than ever to not tailgate or speed.
When in doubt, stay off the road
Bad weather is never a valid excuse for causing an accident on snow- and ice-covered northern Michigan roadways. If you're unsure as to whether you can operate a vehicle safely given the weather, it's best to stay off the roads.
Choose Dingeman & Dancer, PLC
If you or a loved one have been injured in a car accident and would like more information regarding your rights to recovery, choose Dingeman & Dancer, PLC. Call (231)929-0500 or request a consultation online.